Crowfield Golf and Country Club
| | |
| --- | --- |
| | |
Crowfield Golf & Country Club, 300 Hamlet Circle, Goose Creek, SC 29445
Tour 18 Tee to Green
Click Photos to take a photo tour of all 18 holes. Each hole includes a photo from the tee and a view of each green. To go back to Charleston click Charleston Golf Course Directory
Sponsored by Golfholes.com Rates include carts and 6% tax

Directions
From I-26
Exit I26 at #203 to College park Road. Proceed to second light and turn right into Crowfield. Plantation. Take first right after stratford High Scholl at Hamlet Circle. Follow signs to Crowfield Golf and Country Club.
Green Fees
Rates
Tee Times
843-764-4618
General Policies
Proper golf attire such as collared shirts, no denim, and non-metal (soft) spikes are required.
Facilities
Golf shop and snack bar are located in the clubhouse.
Practice
The practice complex includes a putting green and driving range.
Statistics Rating/Slope
Black 6964 yards, Blue 6590 yards, White 6219 yards, Red 4822 yards
Personnel

Troy Sanders

Golf Operations Manager


Bob Spence & Tom Jackson Course Architects
Comments
Rated 3-1/2 stars by Golf Digest this course meanders through the historic setting of the old Crowfield Plantation. Old black oaks are draped with Spanish moss and typical South Carolina lowland wildlife abounds. Many greens are tiered and present the additional challenge of not three putting.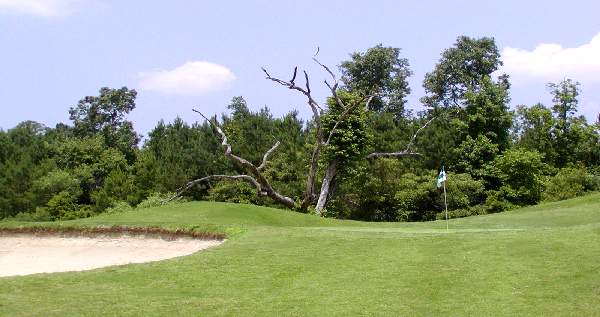 To go back to Charleston click Charleston Golf Course Directory
Placed on-line 6/3/03


Copyright Automated Design Systems, Inc. 2002