Razor Golf Clubs
The newest addition to Razor Golf's Carnivore product line is the "MUTATION" irons. These clubs were voted, "BEST NEW PRODUCT" at this year's 2010 International Network of Golf (ING) convention in Pinehurst by other manufacturers and golf writers.
As a limited time promotion Golfholes.com is rewarding any 4 for 3 purchase of a starting time with a FREE new golf club from Razor Golf. The order form displays at the end of the PayPal transaction.
IMPORTANT: Shipping and Handling charges will apply. Accessories and club configuration upgrades may result in additional charges.
Razor Golf's 50 Degree Attack Wedge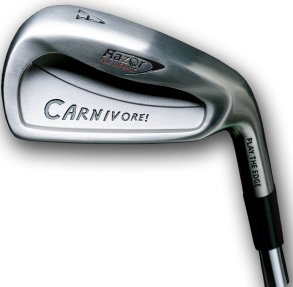 Golfers rave about this Carnivore classic, the 50° ATTACK WEDGE. Balanced and perimeter weighted, this mutation wedge is designed to become your number one scoring club. Get the ball up and stop it on a dime.
Wedge play is the mark of a great player and this handsome and effective club will find a place in your bag and in your game.
Razor Golf's 27 Degree Hybrid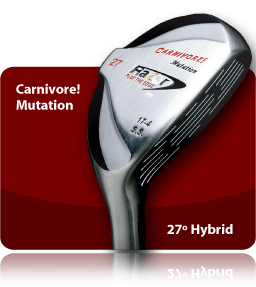 Razor Golf has developed a new hybrid to add to its' CARNIVORE! line of golf equipment. The "MUTATION" is very easy to hit, and is receiving high acclaim by those that have tried it.
With its blue-on-silver design, the "MUTATION" features a crown that slopes down and away from the face, increasing the Moment of Intertia (MOI) by moving the center of gravity farther away from the face. Instead of a long iron, the "MUTATION" adds more yards and much needed height to the shots you once hit.