<![if !vml]>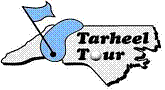 <![endif]>
Bray Grabs Wire-To-Wire Victory at Walnut Creek
Goldsboro, NC – Conditional Nationwide Tour player Dustin Bray entered this week's Albertson's Boise Open as the seventh alternate for the event. Instead of flying to Idaho, the former UNC Tar Heel star opted to stay in his native North Carolina and play the eGolf Tour's Walnut Creek Open in Goldsboro.
Good decision.
Bray carded rounds of 60-67-68—205 to claim his first professional title since 2006 and the $30,000 first-place prize.
Bray entered the final round with a four-shot cushion over Chris Rogers of Nashville, TN, thanks in part to a course-record, 11-under 60 in the event's opening round. Beginning on the front nine at the Ellis Maples-designed Walnut Creek Country Club course, the blowout became a golf tournament in the span of 45 minutes.
Both players managed birdies at the docile par-5 first, but Bray quickly bogeyed the par-4 second while Rogers managed to birdie Nos. 2 and 3. All of a sudden, Bray's lead was down to one shot and the comfortable cushion was deflated.
"No. 2 was a major disappointment," said Bray, an Asheboro, NC native. "I missed a 2-foot par putt, and it just kind of jolted me a little bit. I went into cruise control after that."
Bray's cruise control consisted of six consecutive pars from Nos. 3-8, while Rogers added a birdie at the par-4 seventh to pull even. What looked like a two-horse race soon became a crowded leaderboard.
Former PGA TOUR player Travis Perkins, playing two groups ahead of the leaders, played his first eight holes in 7-under par to turn at 29 and join Bray and Rogers at 14-under for the event. It wasn't until the watery par-3 ninth that Bray got out of cruise control and attempted to reclaim his spot as tournament leader.
"I pushed a 5-iron into the par-3 ninth, but wound up where you want to be, just under the hole," said Bray, citing a back-right hole location that hugged the lake. "I made a great putt and that got me going – No. 9 was huge."
With a one-shot lead, the final threesome made their way to the closing nine, but it was Rogers who took his turn with the outright lead. Birdies on Nos. 10 and 11 had the former Ole Miss standout eyeing his second 2009 title at Walnut Creek after capturing his first pro win at the Walnut Creek Championship in May.
To make things easier on Rogers, Bray added a bogey at the par-4 12th to his card and abruptly found himself two down. In addition, Perkins added a birdie at the par-5 11th to get to 15-under for the day, trailing Rogers by one.
Confused yet? There is more.
Little known Aaron Goldberg of San Diego, CA was sneaking up the leaderboard amidst the pines of Walnut Creek. Playing almost 45 minutes ahead of the leaders, Goldberg turned at 3-under 33 before birdying Nos. 11, 13, 15 and 16 to get to 14-under and in contention. A closing birdie at the par-4 18th gave him the clubhouse lead at 15-under 197 for the event.
It was a bogey by Rogers at the par-3 13th gave Bray the opening he needed to finally make something happen.
"I made a huge putt on 14 after jerking an 8-iron in there to about 30 feet. At that point, it just jumped in my head that sooner or later, you've got to make a move," said Bray, whose birdie now had him even with Rogers.
When Goldberg's 54-hole total posted, players knew that nothing lower than 15-under would suffice. Perhaps that added a bit of pressure to Perkins, who bogeyed Nos. 13 and 15 to post 14-under, one shot shy of Goldberg. Meanwhile, Bray and Rogers were kept abreast of the situation via the leaderboard, but viewed their dual as a match-play scenario.
"We knew guys were going low ahead of us, but more than anything else, I was just trying to feed off of what he was doing," said Bray.
The big swing Bray was looking for finally came in the form of a birdie-to-bogey exchange on the long par-4 16th between him and Rogers. A perfect 5-iron to 12 feet gave him the birdie and a one-shot lead with two holes to play. After trading pars at the par-4 17th, Bray's tee shot on 18 found the fairway and set up the perfect scenario.
"No. 18 was huge – probably my best drive of the week. I just smoked it down the middle, had a good sand wedge yardage."
Good yardage indeed. Bray's wedge found the right bowl where the pin was located and managed to sit just 10 feet above it, while Rogers snuck a wedge from the rough to 9 feet – a mere foot inside Bray.
Showdown time.
Bray stood over his tournament-winning putt and defaulted to years of match play experience, and wins on every level from junior golf to professional golf. It's all the same.
"There is no better feeling than making a big putt. It was match play from No. 12 on, so on 18 I had to assume he was making his," Bray said.
If it was match play, then it was time to shake hands. As cool and collected as could be, Bray rolled in the winning putt to claim a two-shot win over Goldberg and Rogers, whose 9-foot birdie try missed low and left.
For Bray, his first win since 2006 brought on quite a sigh of relief, and a few jittery moments at the scoring table.
"This is huge. It's never easy," he said. "I don't care where you're at or who you're playing against. I mean, my hands were shaking after that putt went in and while I was trying to sign my scorecard. That was a lot of fun!"
With the win, Bray takes home $30,000 before heading back out on the Nationwide Tour for their remaining events.
After taking two weeks off for a friend's wedding and to work with instructor Ron Cerrudo, Bray's alternate status worsened for this week's Nationwide Tour event. Perhaps it was a blessing in disguise.
"I think I'm in (Nationwide Tour events) for the rest of the year. It's hard to say. I was counting my chickens on going to Boise, but wound up here, which worked out for me."
Since the inception of the PGA TOUR's FedExCup, this time of year has been difficult on Nationwide Tour players looking to accrue valuable starts.
"I was seventh alternate this week, but what really pushed me out were the 30 PGA TOUR guys who were no longer in the FedExCup taking a few spots. It's frustrating, but all of those guys on tour are going to look at me and say, 'Play better.' Ultimately, they're right."
Returning to North Carolina is always special for Bray, who now resides in Charleston, SC. He made his name in junior golf there, he starred in college golf there – it is as comfortable of a home-field advantage as can be expected in a sport without stadiums or arenas.
"It's always fun playing here in North Carolina. I've got a lot of friends and family from the area keeping up with me. I think more people keep up with me when I'm playing the eGolf Tour than the Nationwide Tour," Bray quipped.
Goldberg and Rogers each earned $16,500 for their joint runner-up finishes. With the T2 finish, Rogers moves to No. 4 on the 2009 money list with just over $88,000 in earnings.
Perkins wound up in solo fourth and earned $11,000 in his first top-10 effort of the 2009 season. Longtime eGolf Tour player Andy Bare of Jacksonville, FL finished in solo fifth and earned $9,000.
Bray, who led the Tour's money list in 2006 after three victories, cited the thrill of being in contention as quite the rush in Friday's final round. His last win came at the Tour's Cabarrus Classic in 2006, and a runner-up finish on the Nationwide Tour last year is as close as he has come since.
"It's nice to know where you're at, know what you've got to do, and actually do it. That's something I'll remember forever."
The tour would like to thank Walnut Creek Head Golf Professional Jay Hill, Kinston Head Golf Professional Burt Williams, and their staffs for their outstanding help in conducting this tournament. Special thanks to Walnut Creek Head Golf Course Superintendent Brad Edens and Kinston Head Golf Course Superintendent Dean Baker, and their respective crews for putting in long hours to prepare each course for tournament play this week. Last but certainly not least, thank you to the members of Walnut Creek and Kinston for allowing the tour to have access to the courses for tournament week.
The eGolf Professional Tour returns to Charlotte next week for the Cabarrus Classic, contested at Charlotte National Golf Club and Cabarrus Country Club on September 23-25.
Walnut Creek Open
Walnut Creek Country Club
Par 71; 7,024 yards
Kinston Country Club
Par 70; 6,373 yards
Final-Round Results
1. Dustin Bray, Charlotte, NC, $30,000.00, *60-67-68-195 -17
2. Aaron Goldberg, Carlsbad, CA, $16,500.00, *70-64-63-197 -15
2. Chris Rogers, Nashville, TN, $16,500.00, *67-64-66-197 -15
4. Travis Perkins, Lakeland, FL, $11,000.00, *70-64-64-198 -14
5. Andy

  

Bare, West End, NC, $9,000.00, *70-63-67-200 -12
6. Scott Brown, North Augusta, $7,600.00, *66-66-69-201 -11
7. Justin Peters, Stuart, FL, $5,500.00, *65-71-66-202 -10
7. David Ladd, Palm Beach Gardens, FL, $5,500.00, *64-71-67-202 -10
7. Brian Duncan, Mount Pleasant, SC, $5,500.00, *71-63-68-202 -10
10. Jess Daley, Palm Beach Gardens, FL, $3,603.57, *69-69-65-203 -9
10. Fernando Mechereffe, Charlotte, NC, $3,603.57, *70-65-68-203 -9
10. Michael Quagliano, White Plains, NY, $3,603.57, *66-69-68-203 -9
10. Scott Hawley, Shrewsbury, MA, $3,603.57, *65-68-70-203 -9
10. Todd Murphy, Phoenix, AZ, $3,603.57, *65-69-69-203 -9
10. Richard

  

Hanna, Charlottsville, VA, $3,603.57, *67-66-70-203 -9
10. David

  

Robinson, Sandersville, GA, $3,603.57, *65-67-71-203 -9
17. Matt Mincer, Knoxville, TN, $2,700.00, *69-68-67-204 -8
17. Frank Adams III, Salisbury, NC, $2,700.00, *69-68-67-204 -8
17. Kevin

  

Kisner, Aiken, SC, $2,700.00, *68-68-68-204 -8
17. Cortland Lowe, Charlotte, NC, $2,700.00, *66-70-68-204 -8
17. Michael Capone, Orlando, FL, $2,700.00, *66-68-70-204 -8
22. Lee Williams, Alexander City, AL, $2,430.00, *67-71-67-205 -7
22. Fielding Brewbaker, Salem, VA, $2,430.00, *66-71-68-205 -7
22. Will Claxton, Auburn, AL, $2,430.00, *67-69-69-205 -7
22. Matt Davidson, Chapel Hill, NC, $2,430.00, *68-68-69-205 -7
22. Stephen

  

Poole, Aiken, SC, $2,430.00, *72-67-66-205 -7
27. Jay Haas, Greenville, SC, $2,168.75, *72-65-69-206 -6
27. Andy Crain, Goldsboro, NC, $2,168.75, *67-69-70-206 -6
27. Jonathan Rusk, Washington, PA, $2,168.75, *68-67-71-206 -6
27. Jay

  

McLuen, Athens, GA, $2,168.75, *66-69-71-206 -6
31. Jerry

  

Richardson, Raleigh, NC, $1,943.75, *65-72-70-207 -5
31. Scott Ehrlich, Orlando, FL, $1,943.75, *71-65-71-207 -5
31. Reed

  

Darsie, Chapel Hill, NC, $1,943.75, *62-73-72-207 -5
31. Will

  

McGirt, Boiling Springs, SC, $1,943.75, *73-67-67-207 -5
35. David

  

Sanchez, Pinehurst, NC, $1,725.00, *64-73-71-208 -4
35. Scott Weatherly, Fort Payne, AL, $1,725.00, *69-70-69-208 -4
35. James Gilleon, Franklin, NH, $1,725.00, *70-69-69-208 -4
35. Rob Grube, Palo Alto, CA, $1,725.00, *66-73-69-208 -4
35. Clint Jensen, Jupiter, FL, $1,725.00, *73-67-68-208 -4
40. Sean

  

Moore, Marshville, NC, $1,405.56, *70-67-72-209 -3
40. Ted

  

Brown, Richmond, VA, $1,405.56, *71-67-71-209 -3
40. Trevor

  

Murphy, Scottsdale, AZ, $1,405.56, *67-71-71-209 -3
40. Jhared Hack, Sanford, FL, $1,405.56, *68-68-73-209 -3
40. Jeffrey Goff, Jackson, SC, $1,405.56, *68-70-71-209 -3
40. Chris Baker, Brownstown, IN, $1,405.56, *70-69-70-209 -3
40. Trevor Bowman, Harpster, OH, $1,405.56, *70-69-70-209 -3
40. Todd Vernon, Madison, WI, $1,405.56, *66-73-70-209 -3
40. Rich Morris, Fayetteville, AR, $1,405.56, *71-69-69-209 -3
49. Jay Woodson, Richmond, VA, $1,237.50, *67-73-70-210 -2
49. Brandon Knaub, Loganville, PA, $1,237.50, *69-71-70-210 -2
51. Emmett Turner, Augusta, GA, $1,162.00, *72-66-73-211 -1
51. Vinicius Muller, Brazil, $1,162.00, *73-65-73-211 -1
51. Michael Henderson, Orlando, FL, $1,162.00, *69-70-72-211 -1
51. Baxter Culler, Hartsville, SC, $1,162.00, *71-69-71-211 -1
51. Josh McCumber, Tampa, FL, $1,162.00, *67-73-71-211 -1
56. Derek Watson, Murrells Inlet, SC, $1,125.00, *69-69-74-212 E
56. Brent Paladino, Kensington, CT, $1,125.00, *69-68-75-212 E
56. Adam

  

Gary, Bowling Green, KY, $1,125.00, *70-70-72-212 E
56. Ty

  

Tryon, Orlando, FL, $1,125.00, *67-73-72-212 E
60. Paul Wackerly, North Canton, OH, $1,090.00, *67-70-76-213 +1
60. Brian Anderson, Jupiter, FL, $1,090.00, *70-69-74-213 +1
60. Keven Fortin-Simard, Quebec, QC, $1,090.00, *72-68-73-213 +1
63. James Bowen, Dawsonville, GA, $1,052.50, *67-71-76-214 +2
63. Daniel Barbetti, Argentina, $1,052.50, *71-68-75-214 +2
63. Andrew Suggs, Fayetville, GA, $1,052.50, *67-72-75-214 +2
63. Randy Leen, Palm Beach Gardens, FL, $1,052.50, *69-71-74-214 +2
67. Jonathan Orchin, Washington D.C., $1,020.00, *71-69-75-215 +3
68. Dane

  

Burkhart, Aiken, SC, $1,007.50, *74-65-77-216 +4
68. John Eades, Charlotte, NC, $1,007.50, *66-73-77-216 +4
70. Paul Spargo, Australia, $1,000.00, *70-70-78-218 +6