<![if !vml]>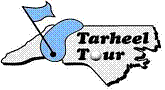 <![endif]>
Moore defeats Gallo on first extra hole to win Walnut Creek Classic
Goldsboro, NC- Former NCAA Individual Champion and Walker Cup hero Jonathan Moore birdied his final three holes including the first hole of a sudden death playoff to claim his first victory as a professional at the Tarheel Tourís Walnut Creek Classic.
Moore and Kensington, CT native Kyle Gallo each birdied the final hole to shoot matching 70ís and finish at 14-under-par for the event. On the first hole of the sudden death playoff Gallo lipped out a downhill 17-footer leaving the door open for Moore to claim the title. The former Oklahoma State All-American buried his 14-footer from the fringe to win his first event on the Tarheel Tour and claim the winnerís share of $16,000. Mooreís victory was the first wire-to-wire victory of the 2008 season on the Tarheel Tour as he held or shared the lead after all three rounds.
ďIíve won as a junior, in college, in amateur golf, and now as a pro. Itís really exciting to get my first win as a professional. Playing with guys like Kyle (Gallo) and Michael (Sims) who have both played the Nationwide Tour and to be able to outlast them made this win very special to me.Ē said Moore.
Moore, Gallo and 2007 Nationwide Tour member Michael Sims all started the day tied for the lead at 12-under-par. Sims fired a 3-under-par 33 on the front nine and held a two-stroke lead before a disastrous quadruple-bogey 9 on the par-5 11th derailed his chances. Sims birdied his final two holes to finish at 10-under and share eighth place.
Canadian Matthew McQuillan fired a 4-under-par 68 and finished at 13-under-par. McQuillan had a chance at a playoff, but Gallo and Moore each birdied the final hole to finish one ahead, leaving McQuillan alone in third place with a $6,500 check as his consolation prize. Eatonton, GA native Blake Adams fired the low round of the day, a 66, to finish tied with Kevin Haefner at 12-under par for the tournament. The finish was good for fourth place tie and $4850. Former East Carolina standout Frank Adams III shot a 2-under-par 70 to finish in a tie for sixth.
The Tarheel Tour would like to thank Walnut Creek Country Club General Manager Jerry Bosquet, Head Golf Professional Jay Hill, Golf Course Superintendent Brad Edens and their staffs for great hospitality and a flawless golf course during the week.
The Tarheel Tour travels to Bermuda Run, NC next week for the Bermuda Run Open beginning on Wednesday, May 28. The first 36-holes will be contested on the Main course and the West Course with the final round taking place on the Main Course, a former host of the NCAA Division One championship.
Walnut Creek Classic
Walnut Creek Country Club
Par 72 7043 Yards
1. x-Jonathan Moore, Reston, VA, $16,000.00, *63-69-70-202 -14
2. Kyle Gallo, Kensington, CT, $8,300.00, *66-66-70-202 -14
3. Matthew McQuillan, Canada, $6,500.00, *69-66-68-203 -13
4. Blake

  

Adams, Eatonton, GA, $4,850.00, *68-70-66-204 -12
4. Kevin Haefner, Auburn, AL, $4,850.00, *68-67-69-204 -12
6. John Scott Rattan, Montgomery Village, MD, $3,350.00, *66-72-67-205 -11
6. Frank Adams III, Laurinburg, NC, $3,350.00, *66-69-70-205 -11
8. Daryl Chappell, Southerland, VA, $2,600.00, *68-67-71-206 -10
8. Michael Sims, West Palm Beach, FL, $2,600.00, *68-64-74-206 -10
10. Scott Weatherly, Fort Payne, AL, $2,125.00, *68-69-70-207 -9
10. David

  

Robinson, Sandersville, GA, $2,125.00, *66-70-71-207 -9
12. Jeffrey Castle, Nottingham, MD, $1,875.00, *71-71-66-208 -8
12. Alex

  

Hamilton, Aiken, SC, $1,875.00, *69-67-72-208 -8
14. Gregg Jones, Florence, SC, $1,800.00, *70-67-72-209 -7
15. Jerry

  

Richardson, Burlington, NC, $1,675.00, *67-73-70-210 -6
15. Bruce McDonald, Mt Pleasant, SC, $1,675.00, *69-70-71-210 -6
15. Fernando Mechereffe, Charlotte, NC, $1,675.00, *66-71-73-210 -6
15. Michael

  

Townsend, Raleigh, NC, $1,675.00, *65-71-74-210 -6
19. Rick Morton, Jacksonville, NC, $1,500.00, *72-67-72-211 -5
19. Dustin Bray, Charlotte, NC, $1,500.00, *73-69-69-211 -5
19. Wesley Pate, Pensacola, FL, $1,500.00, *70-70-71-211 -5
22. Marc Matalavage, Ocean Isle Beach, NC, $1,375.00, *70-68-74-212 -4
22. Jay

  

Mundy, Auburn, AL, $1,375.00, *70-73-69-212 -4
24. Whitfield Massey, Mt. Pleasant, SC, $1,300.00, *73-68-72-213 -3
25. Neil Maurer, Ocean View, DE, $1,212.50, *69-72-73-214 -2
25. D.J Fiese, Roswell, GA, $1,212.50, *67-75-72-214 -2
25. Ben

  

St John, England, $1,212.50, *70-70-74-214 -2
25. Duncan

  

Stewart, St Augustine, FL, $1,212.50, *70-72-72-214 -2
25. David

  

Thomas, Tampa, FL, $1,212.50, *72-70-72-214 -2
25. Scott Usher, Johns Island, SC, $1,212.50, *69-73-72-214 -2
31. Will

  

Mc Girt, Boiling Springs, SC, $1,087.50, *70-70-75-215 -1
31. Jay

  

McLuen, Athens, GA, $1,087.50, *69-71-75-215 -1
31. Andy Crain, Goldsboro, NC, $1,087.50, *72-70-73-215 -1
31. Scott Phillips, Williamsburg, VA, $1,087.50, *70-73-72-215 -1
35. Martin Ureta, Chile, $1,000.00, *69-72-75-216 E
35. Louis

  

Godin, Champlain, QC, $1,000.00, *69-74-73-216 E
35. Willis Ring, Whitsburg, KY, $1,000.00, *67-76-73-216 E
38. Scotty Jones, Charlotte, NC, $885.00, *73-69-75-217 +1
38. Ryan Strickland, Old Hickory, TN, $885.00, *72-69-76-217 +1
38. Brad

  

Burling, Charlotte, NC, $885.00, *72-70-75-217 +1
38. Kristopher Shephard, Evans, GA, $885.00, *70-73-74-217 +1
38. Ryan Sharpe, Greensboro, NC, $885.00, *71-72-74-217 +1
43. Shaun Norris, South Africa, $650.00, *76-66-76-218 +2
43. Adam

  

Gary, Bowling Green, KY, $650.00, *69-74-75-218 +2
45. Stephen

  

Poole, Aiken, SC, $450.00, *70-73-78-221 +5
45. John Mc Allister, Spartanburg, SC, $450.00, *74-69-78-221 +5