<![if !vml]>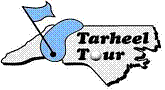 <![endif]>
"SCOTT CLAIMS THE LAST TARHEEL TOUR TITLE OF 2007"
Salisbury, NC. – Three-time Canadian Amateur champion Richard Scott carded a final-round 69 in the Tarheel Tour's Championship at Walnut Creek and in turn claimed a one-shot victory over Jeff Curl and the first-place prize of $16,000.
Scott began the final round with a one-shot lead over Zimbabwe native Bruce McDonald, and a two-shot lead over Curl. Through 10 holes, Scott had recorded three birdies and seven pars and was able to increase his lead over Curl to four shots; however, just when a level of comfort had sunk in for the former two-time All American at the University of Georgia, a dramatic switch occurred. Scott, fresh off of a birdie at the par-4 10th, bogeyed the par-5 11th and was forced to watch as Curl dropped his second eagle of the tournament at the 11th. All of a sudden, a cozy three-shot lead had been reduced to one with seven holes to play. Both players pared 12 and 13, but then Curl went bogey-birdie-birdie on 14-16 and found himself tied for the lead on the tee of the par-5 17th. After yet another big tee shot, Curl hit a 7-iron from 176 yards that clipped a tree and left the Ellington, CT native with an inopportune bogey at the most critical point in the day. Scott managed a routine birdie and finally had the comfort of a two-shot lead heading to the last. A routine par by Scott, coupled with a closing birdie by Curl, gave the Canadian a one-shot victory and the first win of his Tarheel Tour career.
"This win is really special for me. It is my first as a professional. To win on such a great golf course against a tough field right before (PGA TOUR) Q-School is just really special for me," said Scott. "This gives me great confidence heading into first stage at McKinney Ranch in Texas."
Never has a player ever won an event of this magnitude with a poor short game, and Scott was no exception.
"My wedge game and short game carried me this week. I only made one bogey all week and on a golf course as difficult as this one, to do that, you really have to have all facets of your short game working."
Scott was one of the most highly-touted amateurs to ever come out of Canada. The native of Kingsville, Ontario claimed the prestigious Canadian Amateur title in 2003, 2005, and 2006, becoming only the sixth player in the last 100 years to win the event at least three times. When he turned professional in the spring of 2006, much was expected of Scott, and his win today will certainly give the rabid golf fans in Canada hope as he attempts to earn his PGA TOUR card in the coming weeks.
               "This is a great golf course. You have to work it both ways and hit driver a lot. The course was in perfect shape, the greens were flawless, and the members treated all of the players great. I really enjoyed my experience at Walnut Creek."
Scott Brown and Kyle Gallo finished T3 and each earned $5,500 for their efforts. Brown, who was victorious earlier this year at the Bermuda Run Open, briefly tied for the lead on the front nine before failing to record a single birdie over his last 11 holes. This was not Brown's maiden flirtation with victory at Walnut Creek as a final-round 71 at the Walnut Creek Classic in June left him one-shot shy of eventual winner Jay McLuen.
The tour would like to thank all of the members, sponsors, and staff at Walnut Creek Country Club for helping to stage the tournament. Their hard work truly made the event special. The tour would also like to thank Walnut Creek head professional Michael Strickland and his staff for their tireless effort this week. The tour would also like to thank golf course superintendent Brad Edens and his staff for once again providing the players with a beautifully conditioned layout on which to contest the event. A special thanks goes out to General Manager Jerry Bosquet for all of his help and hospitality in bringing the tour back to Walnut Creek.
The Championship at Walnut Creek
Walnut Creek Country Club
Goldsboro, N.C.
Final Round Results
Par-72; 7,043 yards
1. Richard Scott, St. Simons, GA, $16,000.00, *63-70-69-202 -14
2. Jeff Curl, Ellington, CT, $9,500.00, *68-67-68-203 -13
3. Scott Brown, N. Augusta, SC, $5,500.00, *70-65-69-204 -12
3. Kyle Gallo, Kensington, CT, $5,500.00, *67-69-68-204 -12
5. Bjorn Widerstedt, St. Augustine, FL, $3,600.00, *72-68-65-205 -11
5. David  Faught, Jonesboro, AR, $3,600.00, *69-69-67-205 -11
5. Bryant MacKellar, Fairhope, AL, $3,600.00, *66-69-70-205 -11
8. Tommy Gainey, Bishopville, SC, $2,400.00, *70-68-68-206 -10
8. Reid Edstrom, Auburn, AL, $2,400.00, *72-66-68-206 -10
10. Scott Usher, Bennettsville, SC, $2,150.00, *71-67-69-207 -9
10. Bruce McDonald, Mt. Pleasant, SC, $2,150.00, *67-67-73-207 -9
12. Chad Wilfong, Thomasville, NC, $1,875.00, *70-68-70-208 -8
12. Jonathan Fricke, Covington, GA, $1,875.00, *74-66-68-208 -8
12. Dan Olsen, Ponte Vedra, FL, $1,875.00, *69-71-68-208 -8
12. Andrew Tschudin, Australia, $1,875.00, *70-70-68-208 -8
12. Matt Every, Daytona Beach, FL, $1,875.00, *69-69-70-208 -8
12. Jason Martin, Lenoir, NC, $1,875.00, *70-66-72-208 -8
18. William McGirt, Taylors, SC, $1,550.00, *68-71-70-209 -7
18. Richard Hanna, Standardsville, VA, $1,550.00, *67-73-69-209 -7
18. Aaron Pike, Australia, $1,550.00, *68-72-69-209 -7
18. Ben Lammi, Brisbane, Australia, $1,550.00, *66-72-71-209 -7
18. Will Claxton, Auburn, AL, $1,550.00, *71-69-69-209 -7
18. Zack Amole, Myrtle Beach, SC, $1,550.00, *69-71-69-209 -7
18. James Nitties, Newcastle, Australia, $1,550.00, *67-69-73-209 -7
25. Hank Kim, Jonesboro, GA, $1,325.00, *68-72-70-210 -6
25. David Robinson, Sandersville, GA, $1,325.00, *71-67-72-210 -6
27. Kevin Kisner, Aiken, SC, $1,212.50, *67-71-73-211 -5
27. Andy Bare, Jacksonville, FL, $1,212.50, *73-65-73-211 -5
27. Johan Kok, Peachtree City, GA, $1,212.50, *70-68-73-211 -5
27. Scott Stallings, Oakridge, TN, $1,212.50, *73-68-70-211 -5
31. Chris Mundorf, Raleigh, NC, $1,090.83, *69-70-73-212 -4
31. Jesse Smith, Dover, NH, $1,090.83, *72-67-73-212 -4
31. Brent DelaHoussaye, Greenvile, SC, $1,090.83, *69-71-72-212 -4
31. Matt Cannon, Huntersville, NC, $1,090.83, *68-69-75-212 -4
31. Garrett Frank, Youngstown, OH, $1,090.83, *70-71-71-212 -4
31. Nathan Fritz, Scottsdale, AZ, $1,090.83, *73-68-71-212 -4
37. Ryan Sharpe, Greensboro, NC, $1,020.00, *71-68-74-213 -3
38. Brian Quackenbush, Fairfax, VA, $983.75, *71-68-75-214 -2
38. Steve Gilley, Newman, GA, $983.75, *68-72-74-214 -2
38. Jordan Dempsey, Baton Rouge, LA, $983.75, *73-68-73-214 -2
38. John Hurst, Fredricksburg, VA, $983.75, *67-74-73-214 -2
42. Robert Claussen, Charleston, SC, $925.00, *68-73-74-215 -1
43. Andy Crain, Goldsboro, NC, $887.50, *70-71-76-217 +1
43. Ben Friedell, Shaker Heights, OH, $887.50, *74-67-76-217 +1
45. Cortney Brisson, Wallace, NC, $837.50, *69-71-78-218 +2
45. Jason DeJiacamo, Jasper, GA, $837.50, *70-70-78-218 +2
47. B.J. Pitzen, Lakeland, FL, $825.00, *69-72-78-219 +3