40-YEAR-OLD GILLIS KEEPS THE WINNING STREAK ALIVE
Pooler, GA – In the world of professional golf, there are hundreds of kids who are can't-miss prospects coming out of college and turning pro immediately. They have the sponsors, the club deals and the SUVs to go with the expectations – and then there it Tom Gillis. The 40-year-old from Oxford, Michigan doesn't look the part of can't-miss prospect. In fact, he quite resembles the blue collar nature of his home state by merely going about his business, and that appears to be just fine with him. After a 9-under 63 in Wednesday's first round, followed by two days of rain and washed-out rounds, Gillis completed an 8-under 64 on Saturday to blitz the can't-miss kids and claim the Savannah Quarters Championship and the $50,000 first-place prize.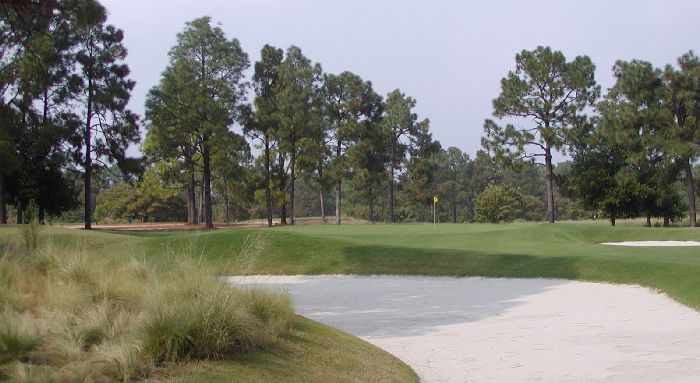 Gillis, who won the tour's Pine Needles Classic just two weeks ago in a playoff, completed only four holes of his second and final round on Friday night and returned to the course to resume his round at 8:30 on Saturday morning after the 72-hole event was reduced to just 36 holes.
Resuming his round on the back nine, pars on Nos. 14-16 brought him to the par-5 17th, where apparently a light turned on.
"That was my only concern after taking a few days off, was getting the rhythm going again, but then I got it," said Gillis.
Indeed he did.
While not knowing exactly how he stood to the field due to the fact that pairings remained the same for both rounds, Gillis quickly put an end to the tournament. Birdies on 17 and 18 took him to the front nine at Savannah Quarters Country Club at 12-under for the event, but it was the five birdies and four pars on that closing nine that put the title out of reach, even for those aforementioned kids.
"I was really nervous when we started (today). I had some tap-ins and just kept going and as the round went on, the pressure kind of came off," said Gillis, who failed to record a single bogey in the 36 holes played.
Former PGA Tour player Matt Hendrix of Aiken, SC finished second, seven shots behind Gillis, after carding rounds of 66-68—134. Hendrix, who had full Tour status in 2007, never could close the gap on Gillis but still took home $27,000 for his runner-up effort.
Drew Bowen, Blaine Peffley, Scott Stallings and overnight clubhouse leader Andrew Medley finished tied for third, a distant eight shots behind Gillis at 9-under 135. Each player earned $12,000 for their work on the week.
For Gillis, the win proved yet again that an old veteran is usually a safe bet from time to time.
"You see these young players come out and they really have no idea what they're in for. I just laugh, because there are so many great players in the world. I think my experience of having been around plays a big part (in winning)," said Gillis, grinning at the thought of a needed $50,000 in his bank account. "They're probably wondering what a 40-year-old guy is doing out here."
While his views of a pampered youth may be misconstrued as arrogant, Gillis realizes just how difficult the game is and that success can never be assumed.
"The game is very humbling. It gets everybody. Even Tiger has been humbled at times."
With two wins and $80,000 over the past three weeks, maybe Mr. Gillis is becoming the eGolf Professional Tour's version of Mr. Woods, complete with young guns trying to chase him down.
A special thanks goes to the members of Savannah Quarters for allowing the tour to use their fantastic club for the week. The tour would like to thank Director of Golf Brian Glasco and his staff for their help in arranging this tournament and assisting the tour during the week. Without a doubt, the hardest working staff in Pooler, GA this week was Head Golf Course Superintendent Stephen Hendrix and his crew. After four inches of rain, bunker washouts and borderline flood-like conditions, this event would never have happened without their tireless efforts to get the course ready for play.
The tour moves from Savannah, GA to the greater Pinehurst, NC area next week for the Bushnell Championship at Little River G.C. (Carthage, NC) and Seven Lakes C.C. (Seven Lakes, NC) on April 8-10.
Savannah Quarters Championship
Savannah Quarters C.C.
Pooler, GA
Par 72; 7,016 yards
Final Results
1. Tom Gillis, Oxford, MI, $50,000.00, *63-64-0-0-127 -17
2. Matt Hendrix, Aiken, SC, $27,000.00, *66-68-0-0-134 -10






3. Drew Bowen, Monroe, GA, $12,000.00, *69-66-0-0-135 -9






3. Blaine Peffley, Lebanon, PA, $12,000.00, *69-66-0-0-135 -9






3. Scott Stallings, Oak Bridge, TN, $12,000.00, *68-67-0-0-135 -9






3. Andrew Medley, Athens, AL, $12,000.00, *67-68-0-0-135 -9






7. Gregg Jones, Florence, SC, $7,325.00, *71-65-0-0-136 -8






7. Michael Henderson, Orlando, FL, $7,325.00, *72-64-0-0-136 -8






7. David Bradshaw, Harpers Ferry, WV, $7,325.00, *65-71-0-0-136 -8






7. Mark

  

Petzold, Charlotte, NC, $7,325.00, *67-69-0-0-136 -8






11. Scott Brown, North Augusta, $5,200.00, *68-69-0-0-137 -7






11. Mark Harrell, Tuscaloosa, AL, $5,200.00, *70-67-0-0-137 -7






11. Jay

  

McLuen, Athens, GA, $5,200.00, *67-70-0-0-137 -7






11. Chris Baker, Brownstown, IN, $5,200.00, *70-67-0-0-137 -7






11. Will Claxton, Auburn, AL, $5,200.00, *68-69-0-0-137 -7






16. Brad Smith, Australia, $4,400.00, *67-71-0-0-138 -6






16. Steve Ford, Melbourne FL, $4,400.00, *70-68-0-0-138 -6






16. Cameron Yancey, Blackstone, VA, $4,400.00, *67-71-0-0-138 -6






19. Kenny Coakley, Bluffton, SC, $3,800.00, *67-72-0-0-139 -5






19. Ted

  

Brown, Richmond, VA, $3,800.00, *69-70-0-0-139 -5






19. Lee Williams, Alexander City, AL, $3,800.00, *71-68-0-0-139 -5






19. Tommy Gibson, Pilot Mountain, NC, $3,800.00, *67-72-0-0-139 -5






19. David

  

Denham, St Simons Island, GA, $3,800.00, *66-73-0-0-139 -5






19. Jeffrey Hill, Ocala, FL, $3,800.00, *68-71-0-0-139 -5






19. Jonas Enander Hedin, Stockholm,Sweden, $3,800.00, *67-72-0-0-139 -5






26. Marc Matalavage, Wilmington, NC, $2,850.00, *67-73-0-0-140 -4






26. Doug Ferris, Hernando Beach, FL, $2,850.00, *71-69-0-0-140 -4






26. Kyle Dobbs, Tequesta, FL, $2,850.00, *68-72-0-0-140 -4






26. Brent Delahoussaye, Greenville, SC, $2,850.00, *69-71-0-0-140 -4






26. Will

  

McGirt, Boiling Springs, SC, $2,850.00, *70-70-0-0-140 -4






26. Martin Ureta, Chapel Hill, NC, $2,850.00, *69-71-0-0-140 -4






26. Fernando Mechereffe, Charlotte, NC, $2,850.00, *70-70-0-0-140 -4






26. Kevin Silva, Charlotte, NC, $2,850.00, *69-71-0-0-140 -4






26. Matt Leconche, Wellington, FL, $2,850.00, *67-73-0-0-140 -4






26. David

  

Robinson, Sandersville, GA, $2,850.00, *68-72-0-0-140 -4






26. Travis Perkins, Lakeland, FL, $2,850.00, *67-73-0-0-140 -4






26. Matt Mincer, Knoxville, TN, $2,850.00, *65-75-0-0-140 -4






38. Adam Fox, Charlotte, NC, $2,007.14, *70-71-0-0-141 -3






38. Richard

  

Hanna, Charlottsville, VA, $2,007.14, *72-69-0-0-141 -3






38. Reid Edstrom, Auburn, AL, $2,007.14, *73-68-0-0-141 -3






38. Kelly Sellers, Bartow, FL, $2,007.14, *71-70-0-0-141 -3






38. Kellen Altman, Myrtle Beach, SC, $2,007.14, *70-71-0-0-141 -3






38. Christian Ries, Atlanta, GA, $2,007.14, *74-67-0-0-141 -3






38. Rob Johnson, Orlando, FL, $2,007.14, *71-70-0-0-141 -3






45. Ted Potter, Silver Springs, FL, $1,553.85, *75-67-0-0-142 -2






45. Andrew Connell, Houston, TX, $1,553.85, *70-72-0-0-142 -2






45. Anthony Mannarino, Boca Raton, FL, $1,553.85, *67-75-0-0-142 -2






45. David

  

Sanchez, Pinehurst, NC, $1,553.85, *70-72-0-0-142 -2






45. Jerry

  

Richardson, Raleigh, NC, $1,553.85, *73-69-0-0-142 -2






45. Jhared Hack, Sanford, FL, $1,553.85, *70-72-0-0-142 -2






45. Colton Turnquist, Bradenton, FL, $1,553.85, *74-68-0-0-142 -2






45. Jason

  

Tate, Madison, AL, $1,553.85, *70-72-0-0-142 -2






45. Blake

  

Adams, Swainsboro, GA, $1,553.85, *69-73-0-0-142 -2






45. Stephen

  

Poole, Aiken, SC, $1,553.85, *68-74-0-0-142 -2






45. Jonathan

  

Moore, Vancouver, WA, $1,553.85, *71-71-0-0-142 -2






45. Roberto Castro, Alpharetta, GA, $1,553.85, *67-75-0-0-142 -2






45. Andrew DiBitetto, Charlotte, NC, $1,553.85, *70-72-0-0-142 -2






58. Jeff Bors, St. Simons Island, GA, $1,145.00, *74-69-0-0-143 -1






58. Brian Duncan, Mount Pleasant, SC, $1,145.00, *71-72-0-0-143 -1






58. Cory

  

Kaufman, Bluffton, SC, $1,145.00, *69-74-0-0-143 -1






58. Jeffrey Castle, Baltimore, MD, $1,145.00, *72-71-0-0-143 -1






58. Jeffrey Goff, Jackson, SC, $1,145.00, *71-72-0-0-143 -1






58. Ian Schneider, Charlotte, NC, $1,145.00, *72-71-0-0-143 -1






58. Kevin

  

Kisner, Aiken, SC, $1,145.00, *68-75-0-0-143 -1






58. Derek Watson, Murrells Inlet, SC, $1,145.00, *72-71-0-0-143 -1






58. Brian Anderson, Jupiter, FL, $1,145.00, *71-72-0-0-143 -1






58. Adam

  

Gary, Bowling Green, KY, $1,145.00, *69-74-0-0-143 -1