Embassy Suites Golf Resort & Spa Opens in Concord, NC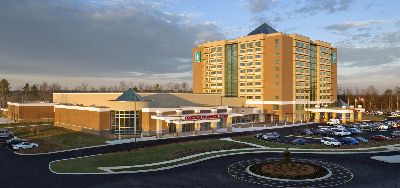 Embassy Suites Golf Resort & Spa offers a premier destination in walking distance of Lowe's Motor Speedway
CONCORD, N.C. – The complete package. That's how general manager Terry Crawford describes the new Embassy Suites Charlotte-Concord Golf Resort & Spa.

The resort came to fruition early this year when the $65 million Embassy Suites complex opened alongside Concord's existing Rocky River Golf Club, just a half mile from Lowe's Motor Speedway. Together they comprise North Carolina's newest golf resort.

"We took what was here and added the complete package – luxury hotel, spa, dining and convention center," says Crawford. "No resort in the state has the meeting space that we do."

In fact, Crawford believes this new resort is unparalleled on a national scale.

"This is the only facility in the United States where you have a golf course, hotel, convention center, NASCAR speedway and a major shopping mall (Concord Mills) all together," he says. "There is a lot to do here. The golf course doesn't just stand alone."

The centerpiece of all this is the 11-story, 308-suite Embassy Suites, a joint venture between hotelier John Q. Hammons and the City of Concord. Hammons is the nation's leading independent builder, developer and owner of upscale, full-service hotels. The company went all out to provide guests the most luxurious experience possible at this new facility.

"This is not your standard Embassy Suites," Crawford says. "It is four or five notches above, and is the most expensive Embassy Suites that John Q. Hammons has ever built. The fact that he elected to put it in Concord, North Carolina, makes it even more unique."

The hotel is full of upgrades and amenities, from leather furnishings and high definition plasma TVs, to wireless Internet and plug-and-play capabilities throughout the facility. There are also two presidential suites with spectacular golf course and racetrack views.

"Again, it's the complete package. The guest room décor is upgraded with a residential feel," explains Crawford. "It's like being in your own home as opposed to a hotel room."

Golf is an important component. The city-owned Rocky River Golf Club is top-notch championship course, designed by noted architect Dan Maples of Pinehurst and ranked No. 76 in the Top 100 listing of all courses in North Carolina. Head golf professional Floyd Gragg feels that ranking is likely to rise.

"The course has sometimes been overlooked in the past," Gragg says. "It is definitely among the state's premier courses, and we expect more people to find out about it. As part of a full-service resort, we now offer things for our guests that were previously unavailable."

Crawford is no stranger to upscale golf. His previous position was general manager of the World Golf Resort in St. Augustine, Fla., home of the World Golf Hall of Fame. He knows a thing or two about quality courses, and is very high on Rocky River.

"Our course is an excellent golf course. It has flown beneath the radar, so the hotel and resort will lift its stature," says Crawford. "We can draw people's attention now, and we're marketing golf not only outside this county, but outside the state to the whole region. That will add notoriety."

The full-service spa is considered a crucial component of the resort experience, providing golfers a chance to unwind with a variety of massages and treatments.

"Without a spa, you really don't have a resort. They are absolutes right now, particularly with golfers," Crawford explains. "The people that play golf are the people that use spa services. You can play golf, have a massage in the afternoon and then relax."

Studies show that travelers, whether on business or vacation, want options when they choose a destination, and the Embassy Suites Golf Resort & Spa is strong in that regard. It can provide golf getaways, NASCAR race packages, corporate retreats, romantic spa weekends and conventions up to 2,500 people. It also benefits from its proximity to Charlotte, one of the liveliest and most vibrant cities in the New South.

"We're an arms-length away from Charlotte," says Crawford. "You've got professional sports and all the activities of a major city, while staying just outside the hustle and bustle."

The Embassy Suites Charlotte-Concord Golf Resort and Spa is the official hotel of Lowe's Motor Speedway. For more information, visit www.embassysuitesconcord.com or call (704) 455-8200.