Golfholes.com CEO Makes First Hole-In-One
By Henry A. Lister, PhD
May 31, 2005 – Pinetuck Golf Course, Rock Hill, SC - The day was overcast, but warm and windy. But it did not stop JW Farquhar from drilling a smartly struck 5-iron a full 162 yards into the cup from the tee for his FIRST hole-in-one today at Pinetuck's fifth hole.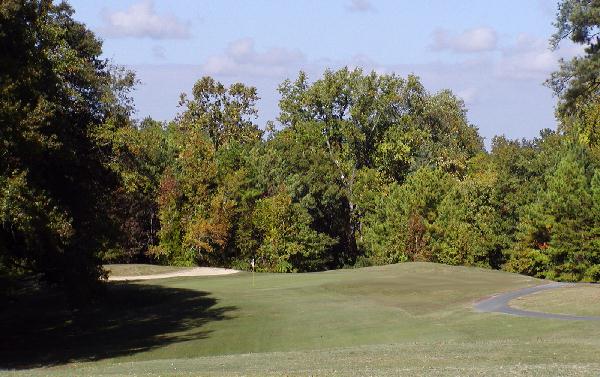 The pin was placed back right of the newly refurbished green that had its turtle-back shaped enhanced. Most members find this hole difficult to par – perhaps they should have tried JW's strategy and put it in with ONE stroke.
Interestingly, JW's playing partner and witness, your author, convinced JW that the ball had rolled across the green and off the back, which he surmised from the view from the tee box. However, upon arrival at the green and thoroughly searching the crowning Bermuda grass for 20 yards past the sloped rear of the putting surface, Dr. Lister wandered to the pin for a glance in the hole. His expression of shock and amazement, especially in light of the fact that an ace meant the loss of the hole, was not enough to convince JW that his unspoken discovery was in earnest. Upon seeing the Nike swoosh at the bottom of the cup for himself, JW let loose a loud, "HA HA!!" and proceeded to celebrate his good fortune of having an impeccable witness for his mastering of iron-mongery. A previous ace was made with no witness, but now JW's membership into the Hole-in-One fraternity was sealed at last. Oh, and he won the match, taking $3 off his starving Golfholes.com partner.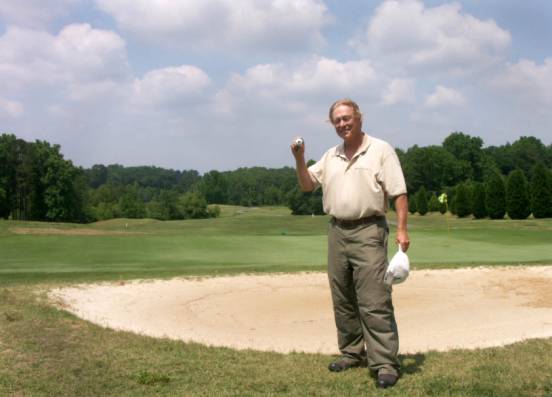 5/31/05 - JW Farquhar poses after his Hole-in-One with The Swoosh ball, hoping for some freebies from Nike